About This Image
Meylius is an early important, and extremely rare German photographer. While the inscription indicates that this dag is from 1848, other evidence indicates that it is much earlier, probably as early as 1841. The paper oval mat with black ink lines and the flatness of the plate indicate that it is very early 1840s, probably 1841 or 1842. The date in the inscription itself is a bit unclear on the eight. It looks like the writer has drawn over a one or a six. The full inscription reads: "pris le 13 Aout a L'Ahr chez et par Monsieur Meylius, 1848 (sic) grandduchi de Baden, Devoue(e) a ma...,Caroline Camille..." It is possible that this is Caroline (nee Muller) Ehrhardt, who is pictrured in another later daguerreotype from this same group of daguerreotypes. If that is the case, then this is definitely circa 1841-42. In an ornate gold gilt frame. Provenance: old Swiss family.
Shipping and insurance costs will be added to the price and must be paid for by the buyer. Pennsylvania buyers must pay appropriate local sales tax. International clients are responsible for their VAT and other custom's oriented charges.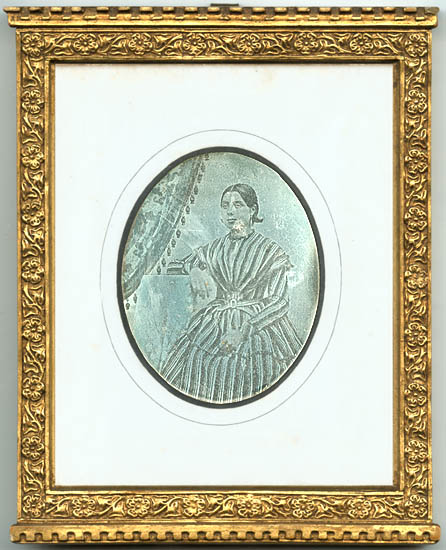 Meylius
Portrait of a Girl (Caroline)
Price $1,250
Sale Price $1,050
---
Ref.# 7232
Medium Daguerreotype (1/4 plate)
Mount in original frame and paper mount
Photo Date 1848? Print Date 1848?
Dimensions 0 x 0 in. (0 x 0 mm)
Photo Country Germany
Photographer Country Germany