About This Image
With a period ink notation on the verso: "Hassard Dodson--Lewis Carroll's Uncle--and his family--probably taken in Putney, where they lived." This is the untrimmed version of the cut oval image that is in the Princeton registry. The number '81' is in a circle at the very bottom right corner. Very rare and a beautiful, rich print, probably unique in the untrimmed version here.The picture is of Dodgson's Uncle Hassard and Aunt Caroline with six of their ten children playing Whist; one son died in infancy. The children here are Louis Henry (b.1836), Charlotte Mary (b.1839), Amy Menella (1842-1922), Menella Frances (b.1848, and Laura Elizabeth (b.1853).See: Taylor and Wakeling, Lewis Carroll, Photographer (Princeton Univ., 2002), p.210, P(3):73; Alex Novak, For the Love of the Image: A Selection of 110 Photographs, p.18, pl.18.
Shipping and insurance costs will be added to the price and must be paid for by the buyer. Pennsylvania buyers must pay appropriate local sales tax. International clients are responsible for their VAT and other custom's oriented charges.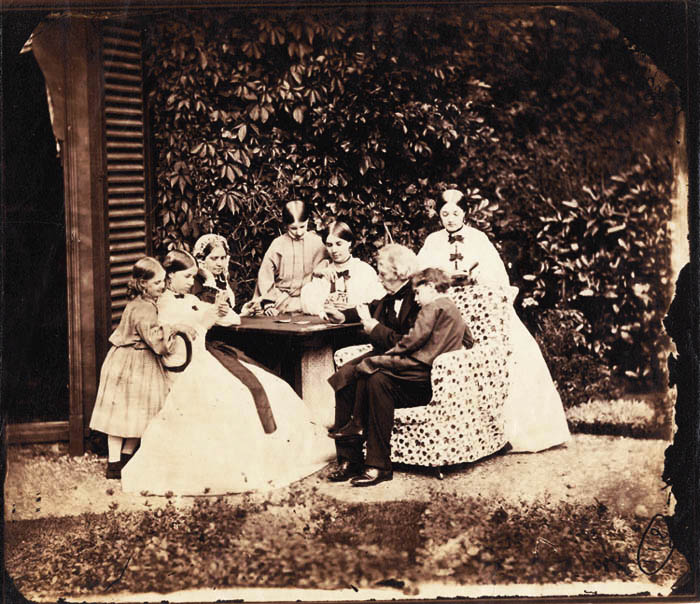 Lewis Carroll (Rev. Charles Dodgson)
Hassard Dodson Family Sitting Round a Table Playing Cards
Price $P.O.R.
---
Ref.# 13229
Medium Albumen print from wet plate negative
Mount unmounted
Photo Date 1862 Print Date 1862
Dimensions 6-1/2 x 7-3/8 in. (165 x 187 mm)
Photo Country United Kingdom (UK)
Photographer Country United Kingdom (UK)